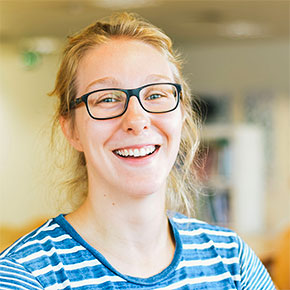 Anna Wilson is an Innovation consultant at Innovia Technology, UK, with a background in veterinary medicine
Where did you grow up?
I was born and went to school in Berkshire in the UK. I moved to Cambridge to study veterinary medicine and have stayed there ever since.
What motivates you in your research on animal well-being?
To improve the quality of a food-producing animal's life. Like humans, other animals experience pain, pleasure, discomfort and distress amongst many other things, and like human workers, food-producing animals are providing a product for us to enjoy. I believe we have a duty to look after the health and well-being of farm animals, just like we have a duty to look after the health and well-being of the farm workers. What's more, improving well-being has productivity benefits too.
What made you decide to work on animal well-being?
My opportunity to research animal well-being was catalysed by two of my colleagues. Guen and Katie wrote a paper together on how behavioural science (applied to humans) can improve pain management in small animal practice. Fortuitously, Laurent Goby (who organises the annual FAWB forum) read the paper and invited Innovia to speak about how behavioural science could be used to improve farm animal well-being at the 2019 FAWB forum in Prague. Since then we have been working with Laurent and his team to improve farm animal well-being through farmer and vet behaviour change.
In your opinion, what is the single most important well-being issue in current animal production?
Pain. Pain is a consequence of many conditions suffered by farm animals and is thus highly prevalent amongst food-producing animals. Everyone knows how unpleasant pain is to experience, but because it is difficult to detect in animals, especially cows who are very stoic, it often goes undetected and untreated on farms.
What is your favourite animal?
My ultimate favourite animals are leopards because they are beautiful, powerful and seem fairly relaxed when hanging out in a tree. I also like how independent they are. My favourite domestic animals are cows, again, because I like how they come across as both relaxed and curious.